Going on a trip and not having a fine dining night out should be considered a travel sin.  And yes, you can do it with small kids. Maybe not a Michelin-rated restaurant, but don't give up hope. All it takes is a bit of searching for the right restaurant, with the right elements, and you can enjoy perfect dining out experience. That's how I found Raintree Restaurant in St. Augustine, Florida.
Raintree Restaurant St.Augustine FL
Raintree Restaurant came on my radar as I searched for top eats during our stay in St. Augustine. When I dug deeper it seemed to have what I was looking for.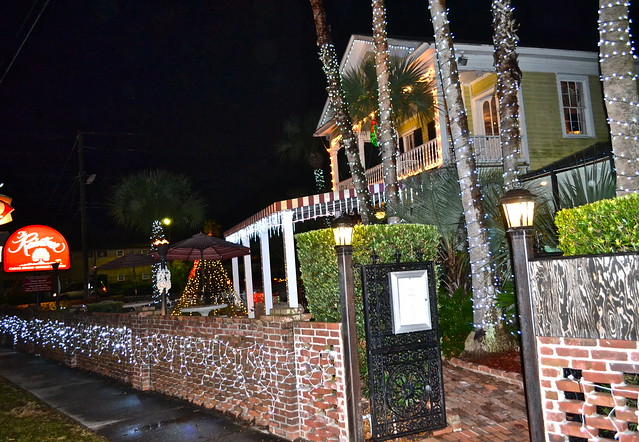 So, what are the important components of a restaurant that will keep the kids happy while the parents enjoy a good time?  (At least for my family)
Outdoor seating
This is a huge point for us. My kids are just way too energetic. We work hard to avoid bringing tablets (ipads) to restaurants (although they are always close by) so they need to run around – a lot. Being indoors can truly irritate other customers, making us rush through our meal, making it a huge no-no.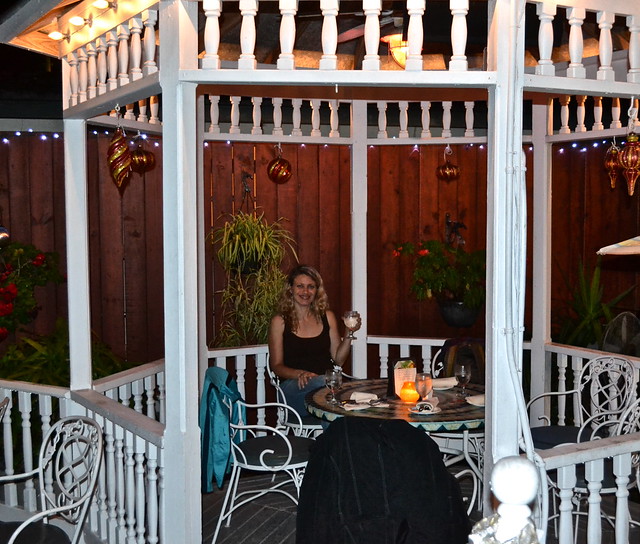 Raintree had a gorgeous courtyard with gazebos, my favorite way to eat. And lucky for us, the day we arrived it rained in the afternoon and no one but us wanted to venture outside and my kids had the lay of the land.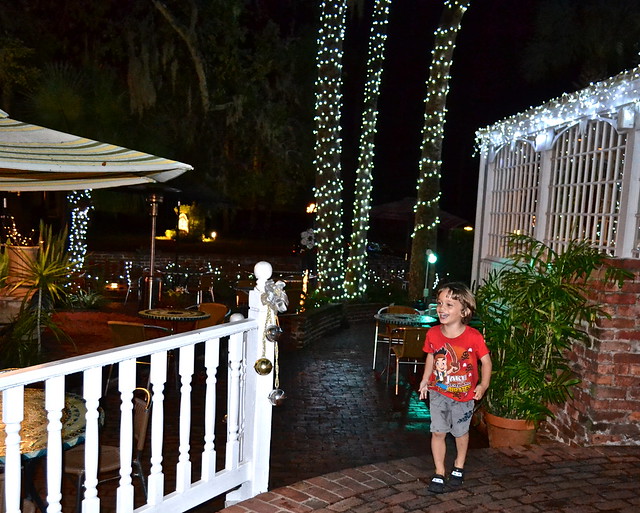 Food
Of course this is crucial, mainly for the kids. Is there a wide selection for the kids? Will we also enjoy the food? These questions go through my mind when researching. The fare hear is international with a strong focus on British food since the owners are originally for the UK.  But they also had many other dishes that pleased us all.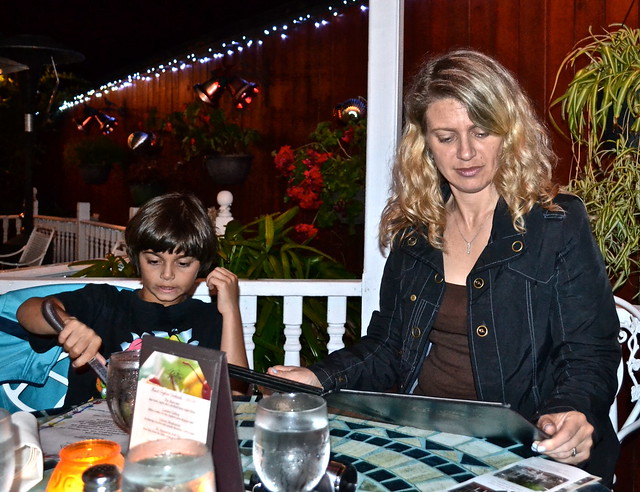 After a bit of rain, it was nice and chilly outside and to warm up a lobster bisque is the perfect way to start dinner.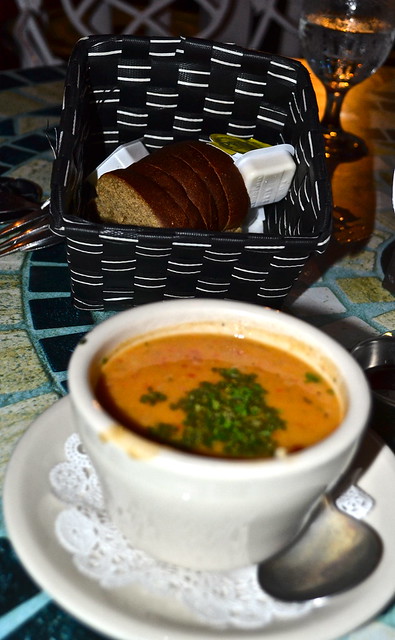 I ordered the Beef Wellington. Aside from being a traditional English dish, it was also one of their signature dishes. And I had never tasted it before.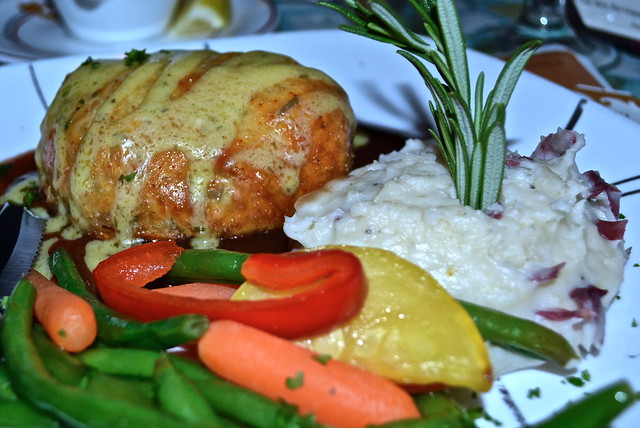 My husband was on a seafood kick – especially mussels, and they had a wonderful mussels pasta dish.
Dessert
Usually the best part. I had my absolute favorite – crème brûlée. Since I always order this dish, it's hard to please me. But I have to say, this one was one of the best I have eaten (and I eat it a lot).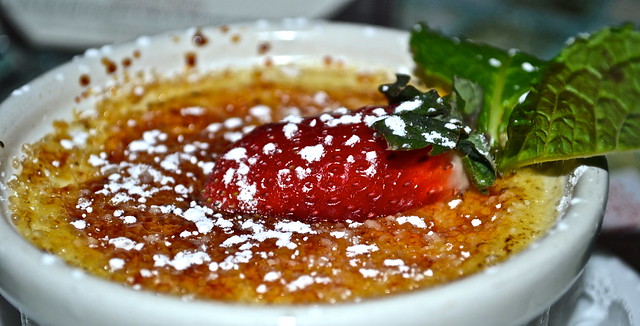 The kid's reward for being (somewhat) good was a huge chocolate brownie with vanilla ice cream and whipped cream. This is when the outdoor garden comes in even handier. Mama and papa can relax while the sugar pulses through the kid's veins, and they go completely nuts running around burning it off before we headed back to our beach cottage in St Augustine.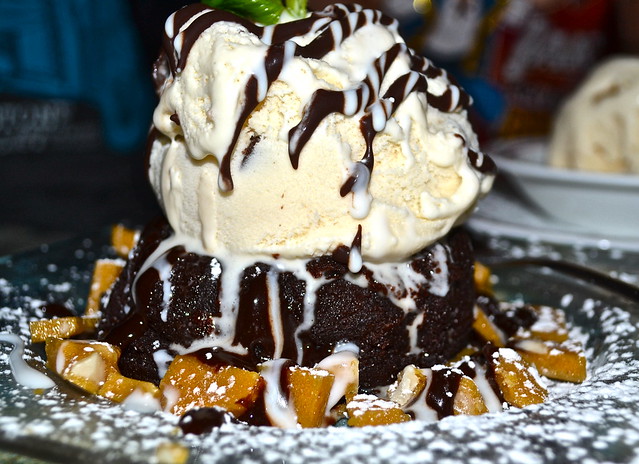 Raintree restaurant is also known to have one of the best wine selections in St. Augustine so while our rugrats ran around we enjoyed a good glass of dessert wine.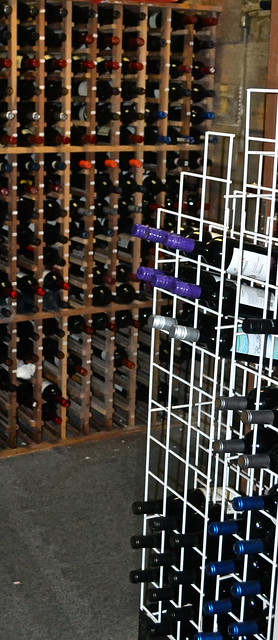 Check their website for the menus.
Parking
If you read anything about driving in St. Augustine, the one issue that keeps on coming up over and over again is the difficulty of parking downtown. Raintree is located very close to all the action of St. Augustine, but has a huge parking lot, so we didn't have to wonder what we'll do with our car.
Final result
We ended up spending almost two hours enjoying the fresh air outside in the gazebo. The food was great, and the kids had plenty of places to run around. It was a wonderful night out and perfect for families.
The backstory of Raintree restaurant St.Augustine
– I prefer to visit restaurants that have a story to tell. You can go and get food anywhere, but the fun of going to a restaurant that has an interesting story makes it a three-dimensional experience for me. Raintree Restaurant is just that.

The long story short – the MacDonald family (parents and two young children) sold off all their belongings and boarded a 45 food yacht in 1979 off of the Canary Islands heading to the US. 16 days later they arrived at the coast of Florida and eventually made it to St. Augustine, Florida. 1981 Raintree restaurant opened its doors.

Read the whole story here.

Video Fun


Places to Eat in St. Augustine – Raintree Restaurant Review

The post Raintree Restaurant St. Augustine, Florida – Elegance and Fine Dining for Families appeared first on Travel Experta - Travel, Lifestyle, Freedom.

------------------------------------------

By: Marina 'Travel Experta'
Title: Raintree Restaurant St. Augustine, Florida – Elegance and Fine Dining for Families
Sourced From: travelexperta.com/raintree-restaurant-st-augustine-fl/
Published Date: Mon, 13 Mar 2023 11:00:05 +0000



Did you miss our previous article...
https://consumernewsnetwork.com/travel-news/discovery-place-a-must-do-with-kids-while-in-charlotte-nc