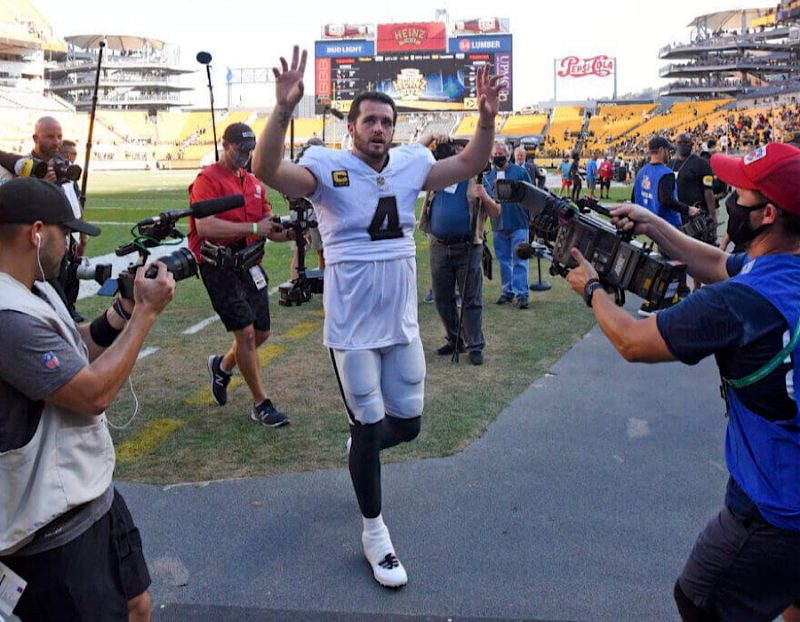 NFL quarterbacks were falling hard and being hit even harder during Week Two of the NFL season, with two unable to return to the field for their teams. Other quarterbacks had difficult days for another reason, namely the defense they were facing could not be defeated by their offense. As the NFL had a quick market correction this past weekend, here is a recap of all the week 2 action.
Washington 30, (1-1), NY Giants 29 (0-2):  In a game that saw both teams play sloppy, the visiting Giants pulled 11 of their own points off the scoreboard thanks to a dropped TD pass, an offensive penalty, and a sack. New York also needed a later interception to kick a late field goal and take a two-point lead. Despite all that, in a game that saw both defenses fold like cheap suits, it was the Giants defense that folded up last by allowing Washington to drive a game-winning field goal. Fittingly, an offsides penalty allowed Washington a second chance to make the kick, setting the tone for what will be a long week for Big Blue fans, some of whom went to Washington to watch their team stay winless after two games.  Credit goes to Giants QB Daniel Jones, who did all he could to keep New York in this game.  Sadly, it may not be enough to save the jobs of some in the front office and the sidelines if the team does not start winning some of these close games.
Chicago 20 (1-1), Cincinnati 17 (1-1):  The Bears recovered nicely from their Week One embarrassment and Chicago football fans got what they wished for in Week Two, although hopefully not in the manner they would have requested.  That's because Justin Fields took over at quarterback for an injured Andy Dalton after spotting the Bears to a 7-0 lead in the first quarter.  Fields didn't mount any TD drives of his own, but the Chicago defense created a pick-six of Cincinnati QB Joe Burrow in the fourth quarter as part of a 13-0 run to extend their lead to 20-3.  While the Bengals did all they could in the time remaining, their comeback fell three points short, creating a push for a game that many might have had as a win in their office pool and parlays.
Buffalo 35 (1-1), Miami 0 (1-1):  The most important play of this game involved Tua Tagovailoa being taken off the field with a left ribcage injury, knocking out the Dolphins quarterback and removing hope of Miami winning this AFC East matchup.  Backup QB Jacoby Brissett could do little against the Bills defense after they were spotted a 14-0 first quarter lead, and Josh Allen put his offense in cruise control for most of the game, creating a three-way tie atop the division.
Cleveland 31 (1-1), Houston 21 (1-1):  The early part of this game was dominated by Houston QB Tyrod Taylor, who started the day 10-10 passing to give the Texans a 14-7 lead in the second quarter.  The problem was that Taylor injured his hamstring on his 15-yard TD run, forcing him out of the game for Houston, and changing the fortunes of the Browns.  Baker Mayfield and the Cleveland offense was able to score the game's next 17 points to take a 24-14 lead into the fourth quarter, with the teams swapping TDs in the final period to give the game its final score.  Mayfield was an effective 19/21 passing and both threw and ran for a score to give the Browns their first win of the season and handing Houston their first loss, upsetting only those who laid 13-points.
New England 25 (1-1), NY Jets 6 (0-2): The mastery that Bill Belichick has over young, inexperienced quarterbacks continued at MetLife Stadium in this AFC East mismatch.  Jets rookie QB Zach Wilson tossed four interceptions in his first start against the Patriots, which New England's own rookie QB Mac Jones turned into 16 points.  Wilson appeared to feel the pressure of being in his home debut as he continually made bad throws, forcing his team to play from behind and unable to consistently move the ball down the field without making a mistake.  The result is the Patriots earn their first win of the season and the Jets fall to 0-2 and the AFC East basement.
Denver 23 (2-0), Jacksonville 13 (0-2):  Two road games and two road wins for the Broncos as they went to Jacksonville and defeated Trevor Lawrence and a feisty Jaguars team.  While the Jags' offense is nowhere near ready for primetime, kick returner Jamal Agnew gave those few home fans on hand a thrill late in the game when it took a kickoff 102 yards for the Jacksonville's only second half points.  Denver's win belongs to Teddy Bridgewater, the forgotten QB of the Broncos who went 26/34 for 328 yards and throwing for two TDs in this game as Denver, early on, is proving they are for real in the AFC West.
San Francisco 17 (2-0), Philadelphia 11 (1-1):  Another western team that has come east twice to start the season 2-0 are the 49ers.  This week's win in Philadelphia was much tougher than their win in Detroit last week, however, San Francisco proved they could win a defensive struggle when their offense is not clicking on all cylinders.  After taking a 7-3 lead into halftime, a ten-point fourth quarter gave the 49ers all the points they would need, with the Eagles only able to put a late TD on the board with 4:02, but no more and San Francisco held on for the win.
LA Rams 27 (2-0), Indianapolis 24 (0-2):  This week the friendly Bears' defense was not around for Matthew Stafford to light up with long passes, instead the Rams' new QB earned his 278 passing yards and two TDs, needing the second one to take a short-lived fourth quarter lead.  After Carson Wentz tied the game up with a FG drive, it was Stafford again leading his team to victory with a FG drive of his own to seal the game.  It was the second straight week the Colts lost by three points as Matthew Stafford and Cooper Kupp continue to lead the Rams offense to wins.
Las Vegas 26 (2-0), Pittsburgh 17 (1-1):  Derek Carr outplayed Big Ben Roethlisberger in the Steelers home opener in this, one of the oldest NFL rivalries.  Carr saved his best work for the second half, tossing one touchdown to give the Raiders a 16-7 lead with 20 minutes left in the game, and adding a second one with 9:35 left to take a nine-point lead.  The teams would only trade field goals from there as the Silver and Black outdueled the Black and Gold in Pittsburgh, making the Raiders an early contender for a playoff spot in the very successful AFC West.
Carolina 26 (2-0), New Orleans 9 (1-1):  For those who might have been casting their MVP vote for Jameis Winston after his historic Week One performance, the .500 quarterback that the former Heisman Trophy winner has been during his career returned this week for the Saints.  Panthers quarterback Sam Darnold was the better quarterback in this game as the Panthers controlled the line of scrimmage, smothering the New Orleans' offense and unleashing Christian McCaffery against their defense for their second win of the season. 
Arizona 34 (2-0), Minnesota 33 (0-2):  For the second straight week the Vikings lost on a field goal, this time in the Arizona desert as the Cardinals broke their hearts.  Kyler Murray was a one-man wrecking crew in posting 400 passing yards for Arizona with three TDs in the air and a fourth on the ground.  Not to be outdone, Kirk Cousins has a 22/34 passing day with three TDs of his own and his running back Dalvin Cook had 22 carries for 131 yards and a score of his own.  Minnesota had a chance to win at the end, but a 37-yard FG sailed wide as the close reached 0:00, snatching a loss from the jaws of victory.  The closeness in these stats clearly matched how competitive this game was, but it was Arizona just a little bit better in taking the one-point win and moving their record to 2-0 and dropping Minnesota to 0-2 on the season.
Tampa Bay 48 (2-0), Atlanta 25 (0-2):  Touchdown passes were flying in central Florida late Sunday afternoon as Tom Brady tossed five of them to account for Tampa Bay's first 35 points.  Sadly, for Atlanta football fans, their quarterback Matt Ryan tossed four TD passes of his own, but the last two were scored by the Buccaneers' defense, turning a 10-point deficit into a blowout loss.  The Falcons' defense is going to make it difficult for their team to stay in too many games this season while the Bucs' defense has not looked as good as it did during the Super Bowl; but they are still 2-0 having held serve at home to start the season. 
Tennessee 33 (1-1), Seattle 30 (1-1) OT:  The Titans finally saw a vintage version of Derrick Henry in this game, with the league's best running back unleashing two touchdown runs in the fourth quarter, part of a 3-TD game, to tie the score and force overtime.  And in a game when Ryan Tannehill and Russell Wilson battled for four plus quarters, it was Tennessee who prevailed with an overtime win game.  Tannehill had 347 passing yards while Wilson had 343; but it was the Seahawks defense who coughed up this game, giving Seattle a loss and the Titans a road win.
Dallas 20 (1-1), LA Chargers 17 (1-1):  The color yellow as long been part of the Chargers uniforms, but in Sunday's first home game with fans since moving back to Los Angeles, it was yellow penalty flags that destroyed their changes of winning.  Dallas started strong, posting 13 first downs and building a 14-3 lead on the road, but their offense barely saw the SoFi Stadium field over the next two quarters.  It not for a penalty taking a 36-yard TD off the scoreboard for the Chargers, the game would have not been tied at 14 headed into the fourth quarter.  From there, more penalties derailed LA's offense, taking another TD off the scoreboard and allowing Dallas to kick two FGs to take the lead, the second of which came as time expired to win the game.  The Chargers were too busy trying to win the trash talking battle to focus on the winning this game, and their immaturity cost them a very winnable matchup.  Only time will tell how much this loss will hurt them in the standings.   
Baltimore 36 (1-1), Kansas City 35 (1-1):  When the Ravens found out they were starting the 2021 season with two primetime games, I am sure they realized there were going to play two elite teams.  After losing on Monday night in Las Vegas, the Chiefs came to down, making Baltimore a home underdog for the first time in years, and they played that way early in Sunday night's game.  Lamar Jackson tossed a pick-six and a red zone interception in the first quarter, putting Baltimore behind on the scoreboard early, forcing them to play from behind most of the night.  Despite their start, the Ravens were able to take a 36-35 lead late in the game, but a missed two-point conversation gave Kansas City a chance to win with a FG.  Amazingly, a fumble with 80 second left in the game by the visitors gave the ball back to the fired-up home team.  Baltimore forced KC to use up their three timeouts, and them went for it on a fourth-and-one with 65 seconds left to clinch their first win of the season.  Kansas City goes home with a tough loss and a lot of questions about they run defense, which was burned for nearly 300 yards on the game; but the peace of mind that if they face Lamar Jackson again, it will be in the postseason.
Green Bay 35 (1-1), Detroit 17 (0-2):  Aaron Rodgers became the 10th most prolific passing in NFL history Monday night as part of a four TD night.  Running back Aaron Jones honored his late father in the first home game he missed since passing away from Covid during the offseason by scoring four TDs of his own.  Detroit was in the game early, holding leads of 7-0, 14-7, and a halftime advantage of 17-14 before being outplayed in the second half 21-0 at Lambeau Field.  The win helps the Packers' faithful relax for a few days before taking a trip to San Francisco, while the Dan Campbell-led Lions know they have a lot of work to do before they will become a respectable team, something that won't happen in Week Three, or at any time during the 2021 NFL season. 
---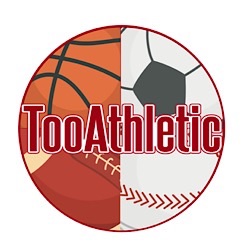 About TooAthletic
TooAthletic Takes is the News division of TooAthletic. Launched in 2019, TooAthletic Takes is a source for all your sports takes. TooAthletic Takes will make you laugh, cry, get mad, and even call us "idiots." We strive to give our readers another viewpoint on any sports situation, and we look forward to disagreements with the hopes that it leads to healthy discussions and debates.

TooAthletic Takes aspires to be the #1 source for all sports takes, and become a leader in sports media.

Categories

"What If" Takes

Boxing Takes

Dumb Sports Takes

Either/Or Takes

ESPN Takes

Fantasy Football Takes

Fox Sports Takes

Funny Sports Highlights

Funny Sports Takes

High School Highlights

Lists

Memes & GIFs

MLB Takes

NBA Highlights

NBA Takes

NCAA Sports Highlights

NCAA Takes

NFL Highlights

NFL Takes

NHL Takes

Predictions

Question Takes

Racing Takes

Rafael's NFL Betting Picks

Sports Gambling Takes

Sports Movie Reviews

Sports News

Sports Quotes

Survivor Pool Picks

TooAthletic Takes

UFC Takes

Voting

Worried/Not Worried About Takes

XFL Takes

NFL Week Two Recap | TooAthletic.com

The post NFL Week Two Recap appeared first on TOOATHLETIC TAKES.

-------------------------------------

By: Rafael Thomas
Title: NFL Week Two Recap
Sourced From: tooathletic.com/nfl-week-two-recap/
Published Date: Tue, 21 Sep 2021 15:16:10 +0000



Always check our latest articles at...
https://consumernewsnetwork.com/pro-sports